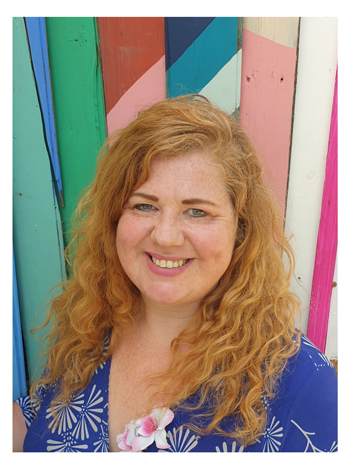 I moved to Gloucestershire over 20 years ago and loved the area so much I stayed! Over the past few years I have been turning Gloucester streets into rainbows and creating huge patchworks of colour across the city.
I am a huge fan of all things colourful and whether it is renovating an old building or transforming the look of a street I like to see the potential in everything. Reinvigorating parts of the city for everyone to enjoy is my passion. I think it is amazing what can be achieved when you dare to be a little different! I am over the moon that I am now known as the lady who turns streets into rainbows!
Tell us why you love Gloucester?
I love the people, the history and the exciting regeneration projects happening here. I adore the city and what it has to offer. I see the city as a living museum and love to immerse myself within that. There is a huge potential here for creativity and being a part of this latest chapter of Gloucesters' history gives me a real buzz.
What are your favourite places in the city?
Obviously I have to mention the two Rainbow Streets which I have curated! Nettleton Road and St Mark Street are both located a few minutes walk away from the city centre and are a great stop on a walk around the city. Visitors can now walk real life rainbows!
I am a huge fan of a lot of the architecture around the city. There are two beautiful buildings located on Northgate Street with highly decorative gable ends which were originally built as part of the Bon Marche store, which later became Debenhams. I call them the Dutch Sisters as they were built 5 years apart. They are architecturally stunning but relatively unnoticed. I have always thought that they would make the most wonderful speakeasy bar!
What are you looking forward to doing in Gloucester when lockdown has ended?
Mingling! Partying! Dancing! I can not wait to be able to meet up with friends again and enjoy every part of this glorious city. I also have many creative ideas for the city and I can't wait to start on them.
What are your top tips for people visiting the city?
Comfy shoes! The city is very walkable and great for exploring. The people in Gloucester are so friendly and always happy to chat to visitors and share their secrets of the city!
You must visit the famous Rainbow Streets! They make the most perfect backdrops for photographs. Nettleton Road, GL1 1QD has twelve painted houses and St Mark Street, GL1 2QQ is a much longer street with forty painted houses. Come a find the decorated window in the Fushia house on St Mark Street! It displays a colour wheel depicting all of the houses of the Rainbow Street in colour order. It's a perfect place to stop and have a selfie!
Do you have anymore exciting upcoming projects you're planning in the city?
Yes I do but they are all top secret! All will be revealed! You can follow the projects on my Instagram @tashfrootko
Related
0 Comments