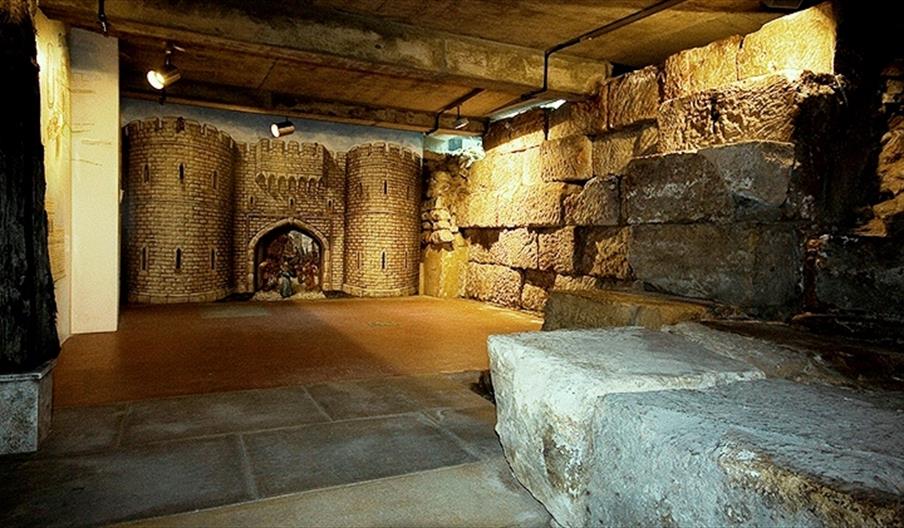 About
This underground chamber reveals the remains of defences and the Eastgate of the city dating back to Gloucester's foundings as a Roman fortress in around AD 68. The site includes Roman remains, the base of a 13th century tower and the Tudor 'horse-pool' where wagons and livestock were washed before market.
Tours of the Eastgate Viewing Chamber can be booked in person or over the phone at the Museum of Gloucester and through the Tourist Information Service. You can also book online at www.gloucesterticketshop.co.uk.
A large section of the Eastgate Viewing Chamber can be viewed through the glass panels in the floor outside Boots on Eastgate Street 365 days a year.
Book Tickets
Facilities
Accessibility
Facilities for Visually Impaired Visitors - Talking Post with 3D + Braille at street level.
Guide Dogs Permitted
Key Features
Parking & Transport
Car parking - The nearest car park is the Mall Eastgate Street.
Tours and Demonstrations
Educational Visits Accepted
Guided Tours Available for Groups
Guided Tours Compulsory for Groups
Guided Tours Compulsory for Individuals
Venue Facilities
Map & Directions