Over the years, we've seen so many great films and TV shows use Gloucestershire as a hub for one or more filming locations, and they really do help to showcase our beautiful part of the world. We've created the Movie Map of Gloucestershire, displaying 35 films and TV show successes that were filmed in and around Gloucestershire, perfect for those wanting to take a scenic tour of the beautiful 'shire, while spotting some of their favourite movie scenes along the way.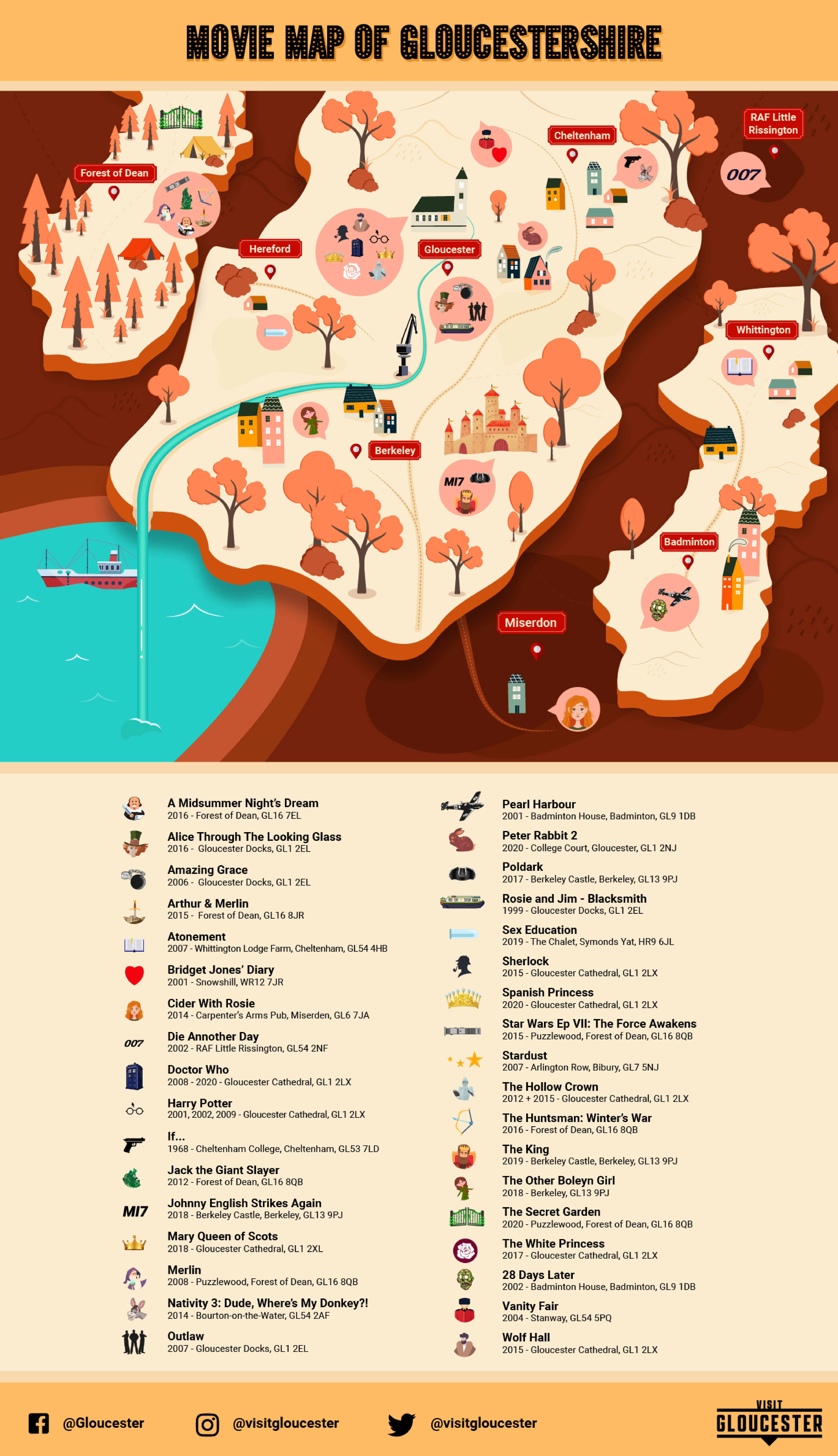 First up, Gloucester Cathedral has played a big role in being one of many filming locations for so, so many blockbusters and TV shows, and is a filming location for eight hit films and TV shows included within our movie map, such as the 'Harry Potter' films, 'Sherlock' and 'Mary Queen of Scots', while just around the corner Gloucester Docks has been a hub for key scenes with 'Alice Through the Looking Glass', 'Amazing Grace' and 'Outlaw'.
Just down the road, Berkeley Castle, has also been home to both 'Johnny English Strikes Again' and 'Poldark'.
The natural beauty that is the Forest of Dean has caught the eye of many filmmakers over the years who want to catch some more magical shorts, with, Puzzlewood a big favourite. 'Arthur & Merlin', 'Jack the Giant Killer' and 'The Huntsman: Winter's War' were all filmed within the forest, as well as 'Star Wars Ep VII: The Force Awakens' – which hit the news just a few years ago with many trying to guess what scenes were being filmed and what was going to happen within the film.
Fancy visiting one of these filming locations? Check out the full list of locations below:
Berkeley Castle
Bibury
Bourton-on-the-Water
Cheltenham College
Forest of Dean
Gloucester Cathedral
Gloucester Docks
Miserden
Stanway
Symonds Yat
Whittington Lodge Farm
Want to know more? Check out our post detailing some of the best films and TV shows that were filmed in Gloucester.
Related
0 Comments