Christmas in Gloucester 2019
Will you be joining us over the festive season? Below, you'll find out about all things Christmas in Gloucester, from ice skating to food and drink, to all things pantos and festive activities. T'is the season to be in Gloucester!
Gloucester Quays Ice Rink
14 November – 5 January
Gloucester Docks
First up, Gloucester Quay's annual ice rink! Enjoy a skate around on real ice in Orchard Square at Gloucester Docks. The open-air ice rink is the ultimate winter wonderland experience and an exciting way to embrace the season. The rink supplies cute and colourful skate aids for children and adults making it a suitable activity for all abilities! After a skate around, tuck into some rink-side refreshments, including hot drinks, food, mulled wine, beer.
Gloucester Quays Victorian Christmas Market
14 -24 November
Monday – Thursday 10am-6pm | Friday – Saturday 10am – 7pm | Sunday 10am – 4pm
Gloucester Docks
With over half a million visitors in 2018 Gloucester Quay's Victorian Christmas market is a must see when in Gloucester. Browse locally produced food, drink, and bespoke gifts, find something different for your loved ones this Christmas and enjoy tasty treats. As well as all the indulgences on offer, there will also be entertainment from cheeky Victorian characters who will be wandering about, as well as Christmas carols and vintage fairground rides.
Snow Fun Zone & Indoor Snowball Fight
(Image curtosy of Snow Business)
Saturday 7 – Friday 20 December
Southgate Street (behind the bandstand)
This year we have guaranteed snowfall happening here in the city centre and it's guaranteed to settle! There is no need to be dreaming of a white Christmas in Gloucester! There will also be an indoor snowball fight happening! Make snow angels without getting you clothes wet and without the blistering cold temperatures of the real stuff! This snow spectacular will be a magical recreation of the aftermath of a natural world snow blizzard but soft and fluffy, so take the hit without the pain and embrace Gloucester's winter wonderland.
Father Christmas at Kings Walk
Thursday 9 December
1pm – 6pm
King's Walk Gloucester
Little ones won't ones won't want to miss out on meeting Santa! For an enchanted start to the festivities, bring them to meet Father Christmas this December at King's Walk Shopping Centre. Children aged 3-10 will receive a FREE goody bag with will contain details for this year's colouring competition, the two winning entries will receive a gift card from The Entertainer. This is a magical experience for all to enjoy.
Vegan Christmas Market
Sunday 8 December (11am- 3pm)
Gloucester Blackfriars
With high success year upon year the Vegan Christmas Market is back in Gloucester for the third time running. You'll be able to shop vegan and cruelty free products at the market as well as enjoy food and drink from local vendors at the stunning Blackfriars Priory.
Aladdin Pantomime
Wednesday 11 & Thursday 12 December
The New Olympus Theatre
Gloucestershire College Performing Arts proudly presents their Aladdin Pantomime this Christmas at the New Olympus Theatre. Follow Aladdin's enchanting adventure on his flying carpet along with a wish-granting genie, an evil sorcerer and of course a magical lamp. Expect the traditional mix of energetic dance routines, thrilling song and humour! Grant the wish of festive entertainment this December and book your tickets to this charming pantomime for all the family to enjoy.
Special matinee daytime performances for schools.
Christmas Lantern Procession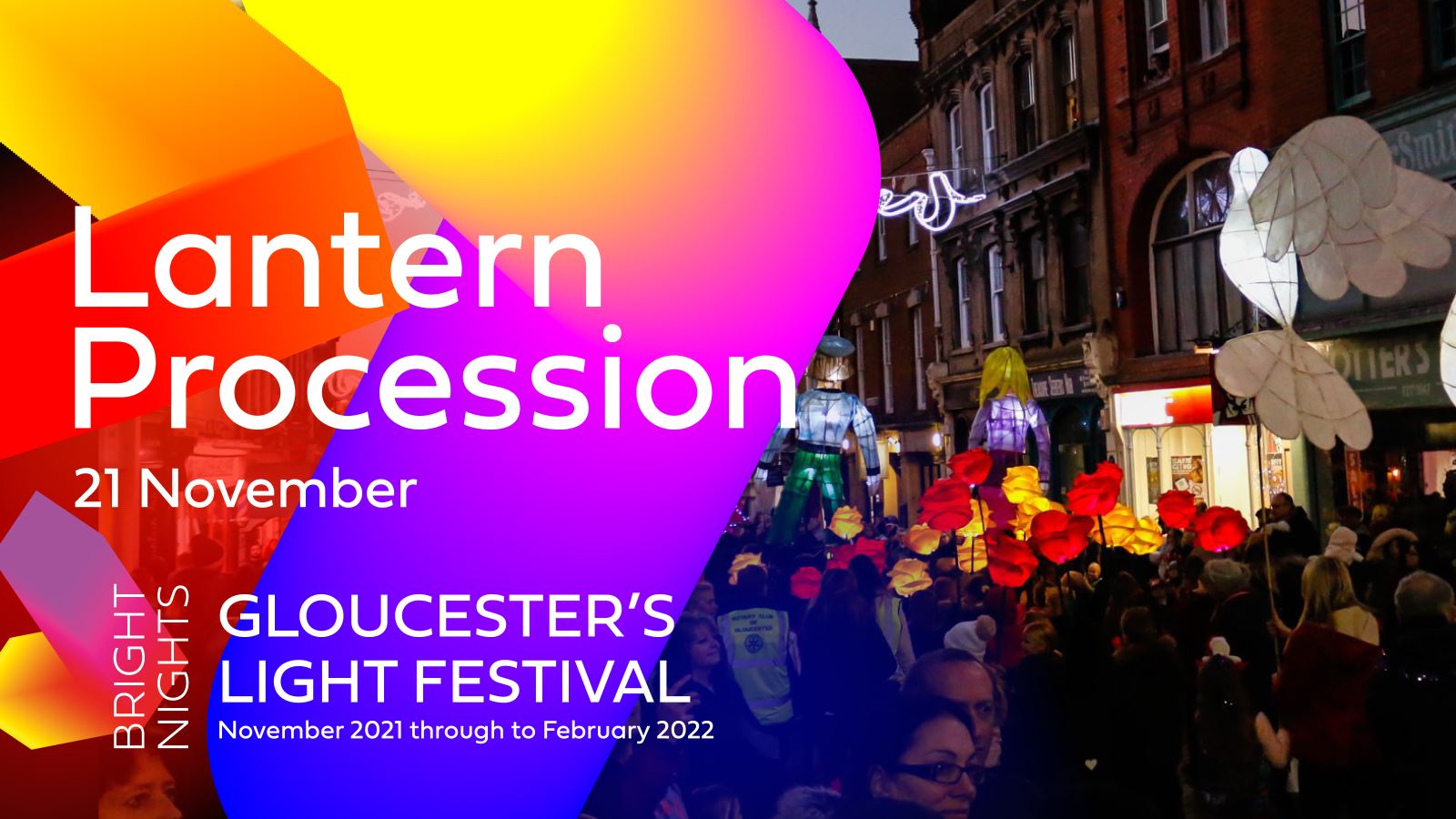 Sunday 17 November (From 4.30pm)
Gloucester City Centre
You'll know Christmas is coming when the annual Christmas Lantern Procession is be spreading Christmas magic across the city. This year, beginning at Kimbrose Triangle, the procession will head down Southgate Street and then Westgate Street lighting up the streets of Gloucester, led by Father Christmas. Hundreds of local school children will be taking part in the parade, showcasing their lanterns which will be created with local artists, inspired by the classic story of Pinocchio. The procession will finish at Gloucester Cathedral with a free carol service to end the evening.
Santa Fun Run
Saturday 7 December (9.30am)
Gloucester City Centre
Hundreds of Santa's will be dashing through the city on a 5k charity run. Through the streets they'll go, raising money on the way! Join forces with the rest of the Santa's in Gloucester and run around the city centre all for a good cause with the money going to rotary charities, supporting young people. The route begins and ends at the Tree of Light with registration starting at 9.30am and the race starting at 10am with a prize giving ceremony at 11am.
Christmas at the Waterways Museum
Thursday 24 November – Tuesday 24 December
Gloucester Waterways Museum
Looking for more things to do with the kids whilst the Victorian Christmas Market is on?
There's lots happening at the Waterways Museum this Christmas, join in with workshops and immerse yourself in the festive spirit. Learn how the Victorian's celebrated Christmas and discover Gloucestershire's Christmas facts and folklore on the Christmas Tree Trail. Weekends will be filled with craft activities including making Victorian Christmas decorations, toys and cards. Enjoy festive treats such as mulled wine and mince pies in the Museum's tearoom.
Christmas at the Cathedral
Saturday 14 & 21 December
Gloucester Cathedral
Enjoy Gloucester Cathedral's festive atmosphere at this special time of year, see the twinkling lights and Christmas trees that line the inside. There will be a warm welcome from various choirs as carols on the hour take place Saturday 14thand 21stDecember 11am- 4pm. The cloister Christmas market will also take place on Saturday 14thfrom 10am where there will be over 60 stalls of food, decorations, toys, crafts and much more.
Pinocchio Performance
Thursday 5 December – Saturday 4 January
Gloucester Guildhall
A performance of the classic fairy tale of the wooden puppet who just wants to be a real boy comes alive this Christmas. Join Pinocchio on a wild adventure along with Dodgy foxes, a fun factory, a nosy cricket, a blue fairy and a whale at the bottom of the ocean. A family-friendly evening of the live musical performance, a definite highlight for Christmas.