British Pie Week 2020
With British Pie Week just around the corner (2nd-8th March) what better excuse could you have to treat yourself to the best places in Gloucester to enjoy a pastried delicacy.
Gloucester's Royal Lamprey Pie (containing eel like fish) was considered a great treat back in the day. It became so highly demanded that a local tradition evolved whereby we sent one to the royal household for every coronation and jubilee dating back to the Middle Ages!
Don't believe me? See the video below … you can really taste the bacon.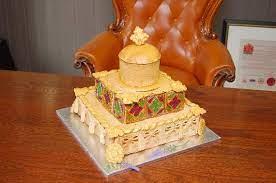 Ever heard of the Gloucestershire Squab pie? Surprisingly enough it doesn't contain pigeon but instead lamb and apple – you might have seen it featured on The Hairy Bikers' Food Tour of Britain.
And we can't forget the modern day, double-carbed classic- pie in a bap (W-O-W what an invention).
So, what makes a pie a pie?
According to our trusty friend Google, a pie is a baked dish of meat and veg with a pastry base and top (typically) … but let's not get too controversial about it.
Anyway, if that didn't put you off, we thought we'd make this as easy as pie so that you can celebrate this week like you mean it. Here's a list of places you can get involved in the annual appreciation of pastry encrusted savours:
Ultimate pie experience
You'll never guess what's on the menu at So Pie… located on Llanthony Road (close to the Quays) this Independent, family run business is what dreams are made of! Pies here are handmade with only the freshest of ingredients, some of which are local. With 14 fillings to choose from and plenty of sides (not forgetting a few gravy options too) you'll be spoilt for choice here. The menu also offers gluten free and veggie alternatives too- there really is something for everyone. Try a Gloucester Home Game, Duck and Cherry or the gluten free Haddock, Salmon and Prawn. If you're serious about pie week, you've found your match.
Pie and a Pint
If you're looking for a traditional pub style pie look no further than Gloucester's award-winning Café Rene. Renowned for its welcoming and relaxed atmosphere, the Rene offers a choice of homemade pies from steak and ale to chicken and mushroom. Their pies are served with a choice of potatoes and a choice or salad or veg but and you're headed there Tuesday you're in for a treat getting a pie and a pint for just £10, what's not to love?
Butchers, Bakers and Local Pie Makers
If you're going the whole hog and fancy something a bit different visit Gloucester Services, you'll find them on the M5 (between junction 12 & 11a). Amongst a gorgeous, countryside setting you'll find all kinds of local produce including homemade pies both ready to eat and for taking away as well as picnic friendly options (who doesn't love a pork pie?). A food experience unique to Gloucester and the biggest family run farm shop you could ever imagine- they're all about proper food here. And a special mention goes to Over Farm market.
Homemade and Hearty
Fancy a lovely homecooked meal? There's plenty of choice at the local Farmhouse Deli on Southgate Street. From traditional steak to a twist of red wine, Stilton and much more heat up at home for a no-hassle hearty meal with the family.
Pie on the Pew
Pull up a pew and sit down for some home cooked scran at The Comfy Pew loaded with charm and character. Next door neighbours with the stunning Gloucester Cathedral this restaurant really is in the heart of the City. Get your hands on a delicious meaty Shepherd's Pie, a baked mushroom and leak pie (both vegan) or even a steak and kidney pudding…what a variation!

Quaint and Cosy
Burrowed between Gloucester and Cheltenham, The Queens Head Longford is an amazing gastropub with an ambient atmosphere. The pub offers a delicious steak and ale pie topped with shortcrust pastry, what's for dessert? Pie of course! Choose from Banoffee or Lemon and Meringue. If you're looking for a warm welcome and decent portion, this is your kind of place.